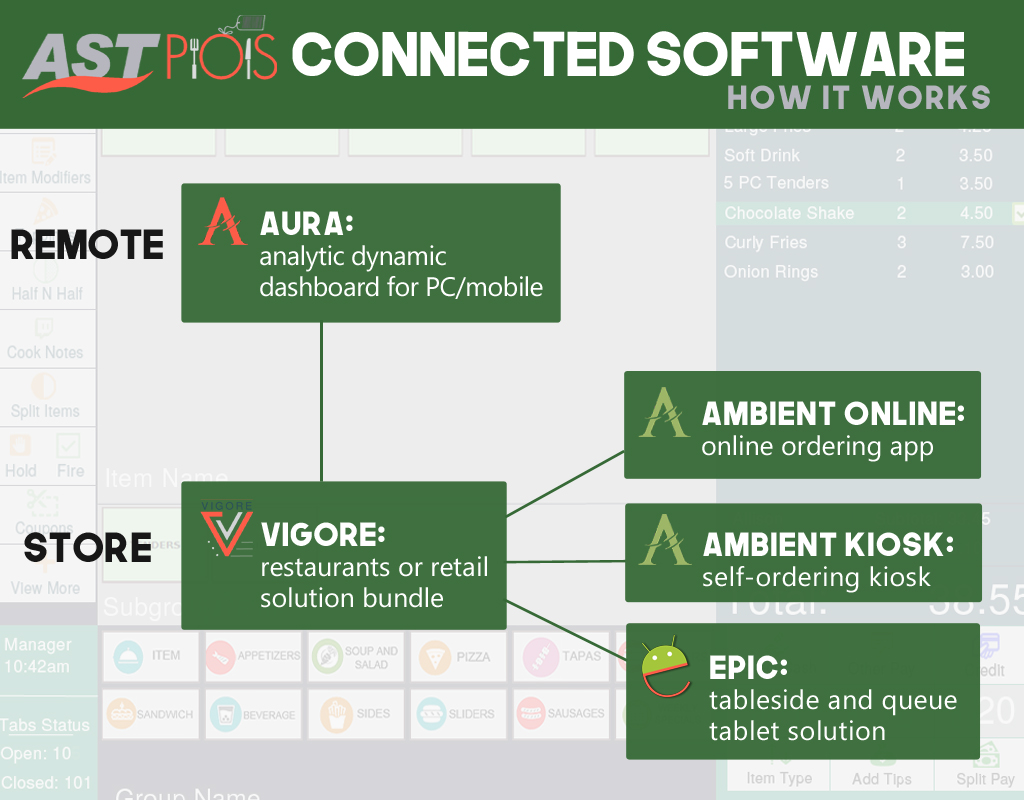 Vigore POS
is the perfect EMV ready Restaurant and Retail Point of Sales Software solution to meet your daily needs- no matter the type of business.
A proven and reliable product, Vigore has been tailored to satisfy Restaurant, Retail, Grocery, Winery, Car Parking Garages,  Nail/Massage Spa, and Salon businesses alike. From small family owned businesses to large corporations, Vigore is optimized to work for you with its unmatched features.
It is both Windows and Linux compatible. Save space and add mobility by using Vigore on a Windows 8 tablet in lieu of a traditional, stationary POS system.
Engineered to be easy to use, Vigore helps to streamline the flow of your fast paced, high demand operations. Retail as well as restaurant operations will appreciate features such as slick 2-click order taking, barcode scanning, delivery, employee time clock, inventory control, and EMV Ready certified payment processing and much more…
Constantly evolving, Vigore is regularly updated and enhanced according to the needs of our customers. We always have you in mind as we continue to make Vigore better than ever.
♦ Retail
Barcode scanning/printing, inventory tracking, pricing by weight, and age verification are all included in Vigore's retail module. Inventory control is made easy as Vigore tracks each and every sale with in depth daily reports of sales and labor as well.
♦ Quick Service
Take orders using Vigore's quick service module specifically tailored to make the order taking process swift and smooth. Take an order and pay in as little as three clicks!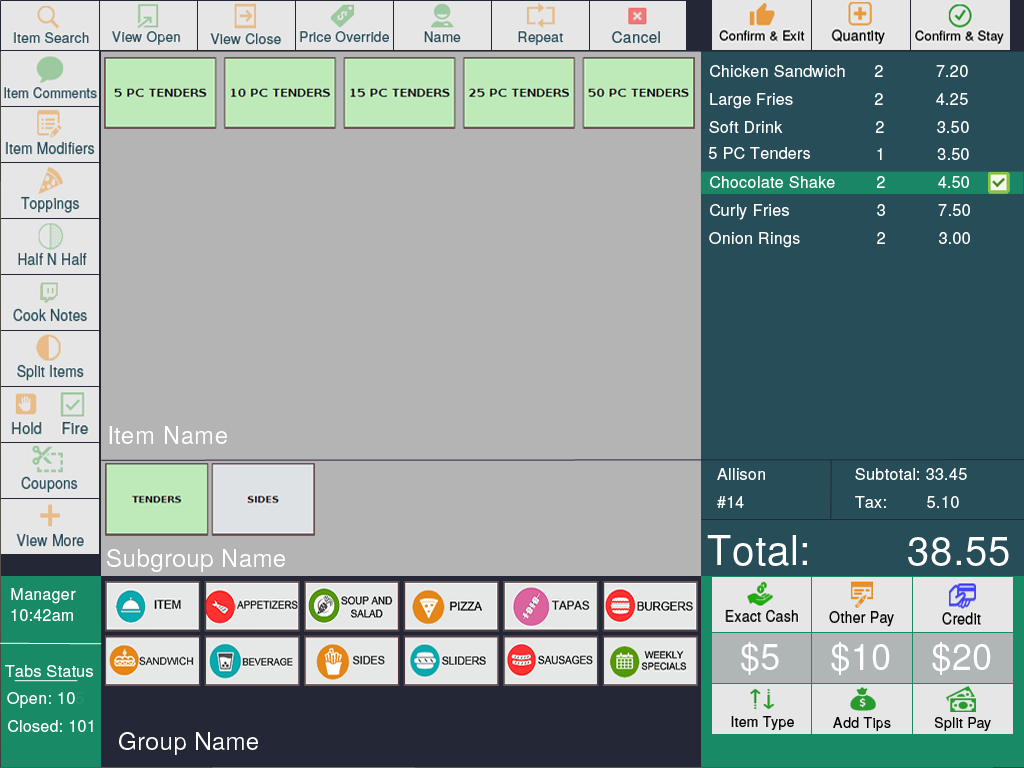 ♦ Table Service
Vigore allows creation of multiple graphical table layouts to assign orders by table number. It supports server specific tables and streamlines everything from order taking to bill pay. Assign names or seat numbers to the table, split by item or amount, transfer to another server or move to another table, share tips, hold and fire any item with auto or over-ride meal courses.
♦ Delivery and Phone Orders
Vigore's delivery module supports customer profiles, street name and cross street lookup, as well as special delivery instructions. Seamlessly integrated with all of Vigore's other business modules, it is perfect for businesses that provide Pizza delivery. Vigore also allows order by phone and prints out receipts complete with customer information to make tracking phone orders easy. Drivers can be assigned and Cashed out with 2 clicks and generate the reports by mileage, tips, coupons and discounts for each Driver.
♦ Employee Payroll
Vigore supports time clock functionality and prints/ exports labor reports, allowing for monitoring of individual employee wages, sales and tips generated. Vigore also supports hourly and salary employees, break periods, and multiple taxing pay periods. We make it more secured by allowing the Staff to Clock in via Biometrics, Swipe card, ID and password or QR code.
♦ Weigh Scale and 1D, 2D Scanners
No need to have a separate weigh scales to measure the weight or compute price. Our automated process eliminates guess work and cashier errors. Scan the correct product off the cart or use smart 2D coupon code off the customers' smartphones.
♦ Inventory
Vigore generates daily inventory reports and tracks opening and closing stock numbers. It allows you to track everything down to the last ketchup packet. Inventory in the food business is very tricky and time consuming with lot of room of errors. We have designed our software to be very intelligent to assist your operations in the least amount of time. It can auto generate Purchase Orders to the Vendors based on usage, stock-in-hand and last purcahses or any Future Orders in queue. Contact us to show you how it works!!
♦ Gift Cards/ Loyalty/ House Account Payable
Vigore POS comes with above features to get you started easily and quickly using in-house database. Thus you own it and can access it anytime from anywhere using AURA 2.0 Analytics.
♦ KDS Kitchen Display System
Gone are the days of the mechanical bump bars and bulky CRT. We offer you innovative screens to instantly communicate to the kitchen with each item or all items on single or multiple screens. Once the food is ready, an alert is sent to the front POS Cashier to hand it over. If the food is not paid for, then Cashier has to pay to release it.
♦ Label Printing (Pizza Box Label, Coffee Cup Label, Sandwich Wrap Label…)
No need to use Sharpie to write the name or order number on the Pizza boxes, Coffee cups or Sandwich wraps. Automate the process without losing time and improve efficiency with a professional look for the customer.
♦ Multiple Language Printing
The chefs can read the items to cook with custom notes in the language they prefer such as Chinese, Korean, Thai, Japanese, Spanish, Hebrew and more… The new auto translation tool allows management to edit and customize Print the way they prefer. vSo far we have been able to use Bixolon F310, SNBC and Genie built in Printer.
♦ Email or Text Alerts
Why make the customers wait for their order or table to be ready, or Management and staff to track the schedules updates. All these can be controlled and managed in the most effective ways with the proper setup.
♦ Delivery Pay at the Door
Epic POS Pro and the Android app allows your delivery staff to take the payment at the customers' doorstep using the chip card, tap and pay, or swipe. This eliminates the hassle of any misuse of the card data. All this is instantly updated to the in -store POS to consolidate the sales.
♦ Order at the Table or Kiosk
Allow your customers to place their orders at the Table with a kiosk displaying all modifiers and mouth watering images of food and drinks to buy. They can pay using the chip card, swipe card, or tap and go. They can split items, split by various cards types and add tips, They can print the receipt or it can be emailed or texted.
Allow your walk-in customers to pre-order their lunch and pay at the same time, or use the stored profile to view their past orders.
♦ Payment Gateways
Vigore POS and Epic POS for Android has integrated seamless payment processing with several leading PCI Certified payment processors for US and Canada merchants. To name a few, such as Velocity ?NAB, Vantiv Integrated Payments for EMV Ready solution, Quite a few on PAX S300 ready portal,  WorldPay, OpenEdge (Global), Heartland and AST third party private label Gateway offering direct integration with all leading US processors such as Paymentech, Elavon, Global, FDMS all platforms and much more.. Several other gateways are in the process of integration and would be available once the certification is completed. Specific details will be released via email and web. Competitive and lower processing or gateway fees applies to all transactions as per guidelines and as per terms of respective platform(s).
Most recent and revolutionary has been with "Vantiv Integrated Payments" to offer a seamless EMV, NFC Vigore POS integrated payment solution within US and Canada. We were one of the ONLY POS providers to offer EMV Ready solution before the October 1st, 2015 liability shift mandate for US. Thus it was featured on BusinessWire and various PR web sources. More media and news articles have been published and ready for release in November and December 2015. Since then we have also added Velocity / NAB with our Solution partner having a lot of large volume in terms of transactions and amount.
♦ Membership Management
If your business has customers whom you want to bill monthly or on a recurring basis, then we have added the module on Vigore 15.3 where you can manage their accounts and bill them using stored profile. Wine clubs would enhance the simplicity to manage and generate reports of the members while adding to their Rewards Points as well.
♦ Data Storage and Access
Database is hosted on-site on any one of the systems as primary storage and other systems and KDS uses it to connect. In new Vigore Release 15.3, we have automated the backups and real time access on our remote secured Cloud Storage where you can access critical data to download or make instant changes to the in-house POS. This ensures 99.99% uptime and data redundancy as long as internet is up.
♦ Drive Through Display ( Delphi Display Systems )
Delphi Display Systems pioneers in drive through displays has been integrated with our software in order to show the items on the OCS display as to what customer is ordering at the Drive Through window. Curb side order taking using AST Epic POS Mobile Tablets is also available.
♦ Caller ID ( Whozz calling!! )
2 Lines or 4 Lines caller id device from callerid.com can be picked up from any of the AST stations showing customer Number and Name (if available) and phone order taker can simply tap on the box and he is good to go for fast order taking, showing the last orders, loyalty and stored info ( if provided) much more…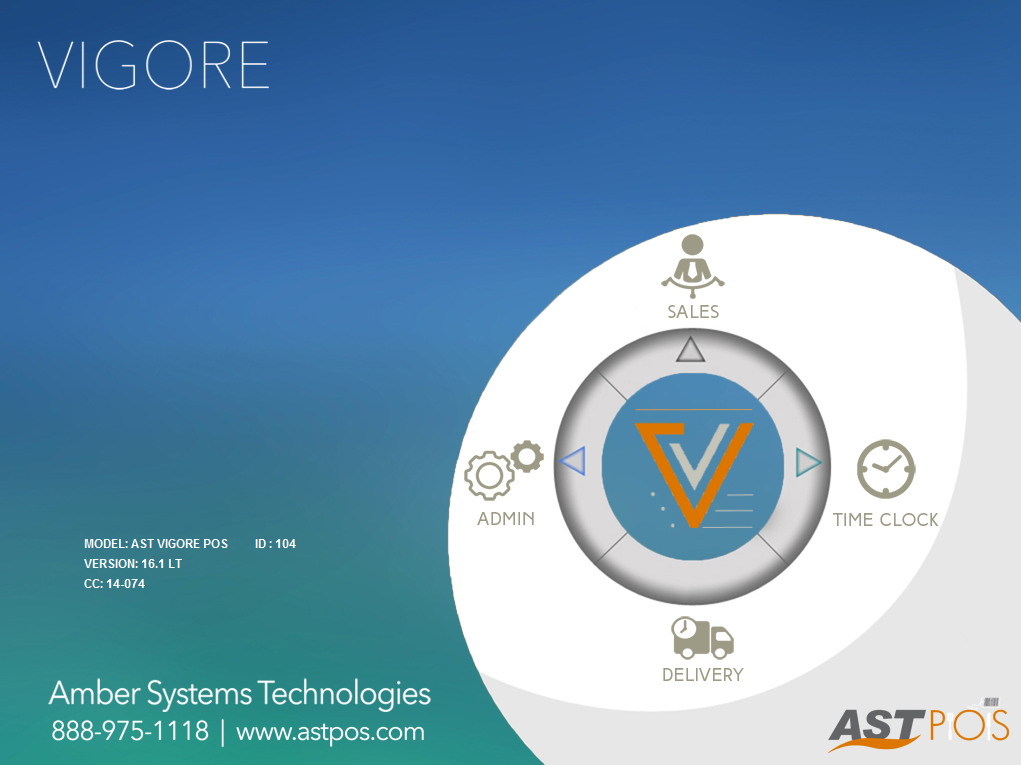 * All trademarks, copyrights and patents are property of their respective owners and all rights are reserved. Any and all of the above and future software features addons or releases are developed in house and or using third party self signed API/ SDK provided and subjected to change without notice. Effective EULA applies automatically to the usage of the above partially or all of the features listed or to be released in the future. Certain features and data usage would incur extra fee as per terms agreed upon signing
Telephone
General Inquiry

925-417-0762

Sales

888-975-1118 ext 1

Support

888-975-1118 ext 2

After hours Elite Support

888-975-1118 ext 3