Waitlist Management
Waitlist and Reservation is an essential tool for restaurants that want to quickly manage customer seating organization as well as a waitlist to add customers on the go. It allows employees to quickly add people to the waitlist if the tables become full and makes filling in the spots much easier.
Your front desk host or hostess can effectively track the availability of the tables with ETA time. You can track the customers by matching their cell phone numbers and names to the relevant tables. 

The staff can keep track of your VIP members on your priority list by getting them started with a drink or appetizer while they wait.
The left side represents the waitlist of people who have signed up for a queue. The right side represents the real time status of all tables currently available. Included on the top right are blue buttons that represent a specific type of table layout. Clicking on the buttons that represent different layouts will allow the employee to see only the tables which belong to that specific layout (Ex. If you select 'Bar' you will only see the tables located at the bar.)

Gray colored tables represent unoccupied tables available for seating and reservation. Navy colored tables with a graph represent occupied tables not available for seating. The yellow colored tables with a graph represent occupied tables which have their bills printed out, thus they will be leaving soon. The yellow tables with name, number of guests, and phone number are tables inn which the waitlisted group has been seated.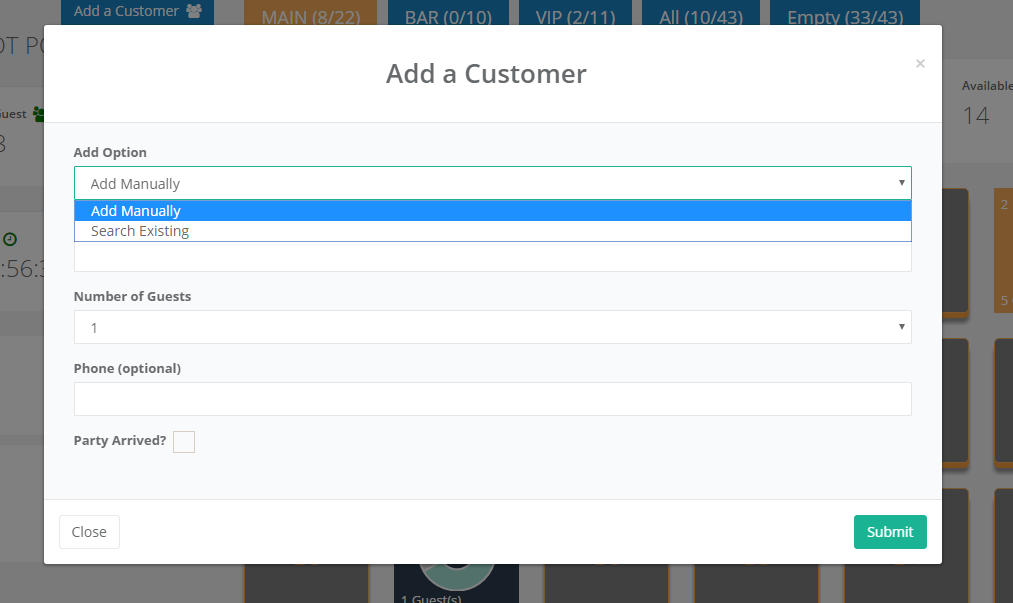 Reservation Management
Customers can make prior reservations online or in-store. They will receive a confirmation before the date or time of the reservation in order to re-confirm. This helps keep the customers and store management in sync and keeps them engaged.